Looks to me like America is getting SICK of it too. FINALLY…This is what the first part of the line read:
'Seven

black

teens have been arrested on suspicion that they committed a hate crime…'
Yeah…we know….
THATS RACIST!!!! YOU RACISTS!!!!!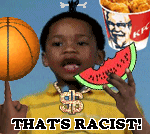 When black people start calling out the evil from among you, we will stop reporting the TRUTH.  Yes, we will even stop being mean.